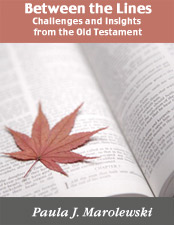 Between the Lines
Challenges and Insights from the Old Testament
Between the Lines takes a unique approach for a Bible study: each lesson begins with a poem, written to explore the truths, insights, and challenges nestled between two consecutive verses of Scripture in the Old Testament.
When I originally wrote the poems you will find in this study, I did so because I was struck by the drama in these Old Testament stories – a drama that wasn't shouted from the actual text, but that took place literally after the close of one verse and before the start of the next.
Between the lines, between the verses, there was a wealth of pain, longing, emotion, conflict, and challenge. It is that drama that these poems seek to capture.
After each poem, you will find a page of questions relating to the issues that the poem raises. These questions are meditative and discussion-oriented in nature, appropriate for both personal devotion and small group settings. They are designed to add not only to our understanding of the Old Testament stories, but to our appreciation and application of eternal truths in our own lives.
Take your time. Explore the truths that God has revealed in these verses. And go forth changed and renewed.